Wadleigh Memorial Library Development Fund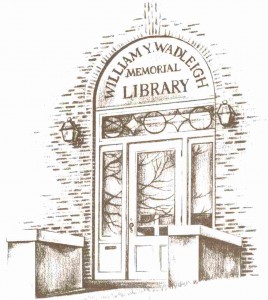 The Wadleigh Library Development Fund is an IRS 501(c)(3) charitable organization chartered to increase and improve the educational, inspirational, cultural and recreational opportunities of present and future residents of the Town of Milford, New Hampshire through the continued growth and development of the resources, services and facilities of the William Y. Wadleigh Memorial Library.
Make a Donation
Consider making a tax deductible donation to ensure our public library will be able to offer the resources Milford needs. If you have questions or want your donation used for specific purposes please contact the library director.

Or, make check payable to: Wadeigh Library Development Fund. Mailing address: 49 Nashua St., Milford, NH 03055.
Thank you for your support of library programs.
Development Fund Trustees

Term Ends

William Kokko
2026
Kathryn Parenti – Vice President
2024
Tom Schmidt - President
2026
Susan Taylor – Secretary
2025
Joe Traficante – Treasurer
2024
Betsy Solon – Library Director ex-officio
History | Bylaws | Articles of Agreement
---
Meeting Minutes
Meeting Minutes for April 25, 2023
Meeting Minutes for April 12, 2021
Meeting Minutes for April 8, 2020
Meeting Minutes for June 24, 2019
Meeting Minutes for May 8, 2018
Meeting Minutes for April 25, 2017
Meeting Minutes for January 24, 2017
Meeting Minutes for March 22, 2016
Meeting Minutes for December 1, 2015
Meeting Minutes for March 31, 2015
Meeting Minutes for November 25, 2014
Meeting Minutes for September 10, 2014
Meeting Minutes for May 6, 2014
Meeting Minutes for January 28, 2014
Meeting Minutes for October 1, 2013
Meeting Minutes for May 28, 2013
---