---
Explora for Public Libraries (EBSCO)
Explora is a research tool that enables a quick search of articles, essays, and primary source documents including journals, abstracts, magazines, newspapers, encyclopedias, dictionaries, books, biographies, and historical essays.
• Browse categories organized by popular topic.
• 60,000 top videos from the Associated Press.
• Over 1 million relevant photos, images, and maps.
You can search for current events, educational, environmental, social, political and economic issues, health, medical, and scientific discoveries, along with other popular topics and have access to U.S. and international newspapers, and full-text television and radio news transcripts.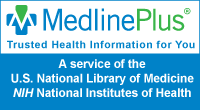 MedlinePlus.gov
MedlinePlus directs you to information to help answer health questions. MedlinePlus brings together authoritative information from NLM, the National Institutes of Health (NIH), and other government agencies and health-related organizations. MedlinePlus also contains extensive information about drugs and supplements, an illustrated medical encyclopedia, the latest health news, and surgery videos.