Downloadable Books
The library provides downloadable ebooks and audiobooks via two services. Overdrive is the service provided by the New Hampshire State Library, and offers two different apps: Overdrive and Libby. Cloud Library is a service provided by the GMILCS Library Consortium.
---
Libby
New Hampshire Downloadable Books Consortium
Libby is the newest app available for using the NH Downloadable Books Consortium and will work on most newer devices. Sign in to multiple libraries, with one or more cards for each library. Download books and audiobooks for offline reading, or stream them to save space.
Need help? Visit Libby Help, or contact the library for assistance.
To get started, view our Libby Guide here.
---
Cloud Library
GMILCS Library Consortium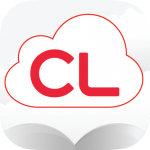 The Cloud Library app will work on most smartphones, ereaders, and tablets that allow apps. Simply download to your device, enter your location, and log in with your library card number.
Need help? Visit Cloud Library Support, or contact the library.
To get started, view our Cloud Library Guide here.
---
Free ebooks and audiobooks
In addition to the downloadable ebooks and audiobooks available for library card holders through Overdrive and Cloud Library, here are a few other resources to find free ebooks and audiobooks:
Internet Archive - includes Open Library, where you can find many classics
Project Gutenberg - includes many classics and titles with expired copyrights.
DPLA - the Digital Public Library of America brings together free collections from museums and libraries across America.
---