American Ancestors (In Library Access Only)
American Ancestors (formerly New England Historic Genealogical Society (NEHGS) offers secure online databases which contain all of the Society's New England and New York content, features, articles, and resources, as well as weekly updates and databases in a variety of regional and ethnic specialties, such as sources for mid-Atlantic, Irish, and African American research.
America's GenealogyBank
Genealogies, obituaries, marriage and birth announcements and more from 1652 to the present. Includes historical newspapers, books and documents, and the Social Security Death Index. Also includes access to full-text issues of the local Farmer's Cabinet from 1802-1879.
Ancestry Library Online (now available for home use!)
Access primary-source document images and a variety of genealogical research features including census records from the U.S. Federal Census between the years 1790 and 1930. In addition, AncestryPlus includes immigration, vital, military, court, church and ethnic records; city directories; genealogical societies; Social Security Death Index; Periodical Source Index; family history library; and much more.
FamilySearch.org
FamilySearch is a free genealogy service provided by The Church of Jesus Christ of Latter-day Saints.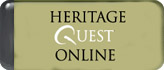 HeritageQuest Online
With over 24,000 books, the complete U.S. Federal Census, the Periodical Source Index (PERSI™), Revolutionary War Pension Records, and other collections, HeritageQuest Online provides access to one of the largest collections of genealogy material in the country. Search using name, location, gender, or race. This collection of research materials helps in tracing family history and studying American culture.