Ancestry Library Online (In Library Access Only)
Access primary-source document images and a variety of genealogical research features including census records from the U.S. Federal Census between the years 1790 and 1930. In addition, AncestryPlus includes immigration, vital, military, court, church and ethnic records; city directories; genealogical societies; Social Security Death Index; Periodical Source Index; family history library; and much more.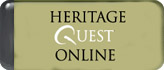 HeritageQuest Online
With over 24,000 books, the complete U.S. Federal Census, the Periodical Source Index (PERSI™), Revolutionary War Pension Records, and other collections, HeritageQuest Online provides access to one of the largest collections of genealogy material in the country. Search using name, location, gender, or race. This collection of research materials helps in tracing family history and studying American culture.