Explora for Public Libraries (EBSCO)
Explora is a research tool that enables a quick search of articles, essays, and primary source documents including journals, abstracts, magazines, newspapers, encyclopedias, dictionaries, books, biographies, and historical essays.
• Browse categories organized by popular topic.
• 60,000 top videos from the Associated Press.
• Over 1 million relevant photos, images, and maps.
You can search for current events, educational, environmental, social, political and economic issues, health, medical, and scientific discoveries, along with other popular topics and have access to U.S. and international newspapers, and full-text television and radio news transcripts.
Learning Express Library
Practice standardized tests, tutorial courses, and resume and cover letter composition. Comprehensive, interactive online learning platform of practice tests and tutorial course series designed to help you succeed on academic or licensing tests such as the SAT, GED, GRE. Commercial Driver's License Exam, U.S. Citizenship, and so much more. You'll get immediate scoring, complete answer explanations, and an individualized analysis of your results. Provided by the Wadleigh Memorial Library.To use this database, you must first create a user account with your library card number as your Username.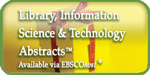 Library, Information Science & Technology Abstracts (LISTA)
Indexes more than 600 journals; plus books, research reports and proceedings. Subject coverage includes librarianship, classification, cataloging, bibliometrics, online information retrieval, information management and more. Coverage in the database extends back as far as the mid-1960s. Great for the Library and Information professional and student alike. Provided by New Hampshire State Library's NHewLINK.